Flexible police training options,
online or in-person.
We are revolutionizing the way law enforcement training is done.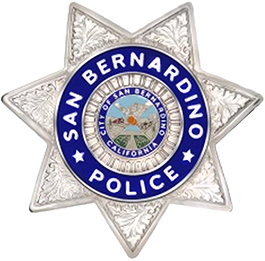 Police Officer
San Bernanado Police Department, CA
"The course was absolutely very easy to understand and I felt it was good that it was instructed in chronological order. It really helped me to understand the different stages of a death and different clues to look for."
Homicide Detective
Virginia Beach Police Department, VA
"I learned a lot during the wounds portion. My report writing will be more informative with what I learned. Also looking at wounds different now. Things have definitely changed for me since the class. Thank you!!!!!"
Police Officer
Gross Point Farms Police Department, MI
"Five out of five. Ten out of ten. Full points. I thought that the instructors were both very knowledgeable and entertaining. Both qualities are crucial to keeping students interested while contributing to one's learning/retention of the material. I would definitely recommend this course to my colleagues!"
When it comes to choosing a training course, it's important to consider your specific assignment and responsibilities. Whether you're in law enforcement or a related field, choosing a training course that's tailored to your assignment can help you stay prepared and confident in the face of real-world challenges. 
Take the first step towards preparedness and confidence by selecting a training course tailored to your assignment today.
Quick Training
Designed for a quick knowledge grab.
Sheriff's Investigator
Elko County Sheriff's Office, NV
"10/10.This is one of the better classes that I've taken in law enforcement. Most classes you can daydream through but I felt this class was put together well. Both of the instructors made it feel like they spoke to me and not at me."
Full Course Catalog
All of our courses in one place.
Police Officer
Marrysville Police Department, WA
"This class had great examples and also great discussion. Definitely learned so much and I believe this class would help any officer with further investigation. It gives good perspective on how to dig deeper into these crimes."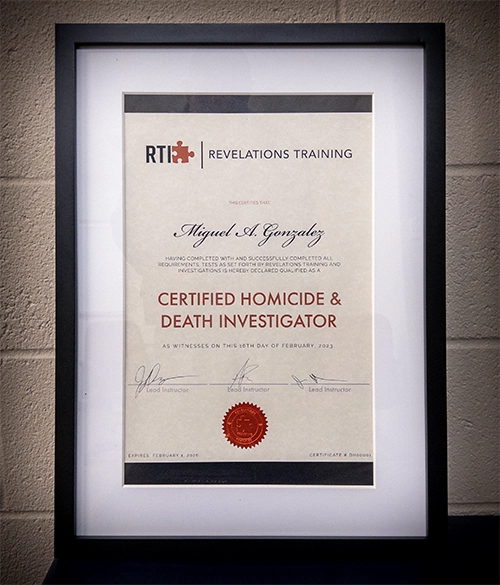 state-of-the-art training
Investigator Certification
We offer a wide range of law enforcement certification courses that cater to diverse skill levels and interests. Our investigation certification is designed to provide learners with distinct and specialized learning tracks, giving them the opportunity to focus on a particular area of interest and hone their skills accordingly.
With our flexible training options, you can select a course that fits your learning style, schedule, and career objectives. Choose from our four law enforcement certification courses, and specialize your skill set to meet the unique demands of your job.
Our Clients Believe in Us
Here's What They Are Saying
"10/10. Brought up a lot of good examples such as angles, use of light and how and why to use different angles, light, not using zoom and so on. It gave me a good basic overall idea of how to better take photos and paint a picture of what I see on crime scene also had a sense of humor and made it fun! "(Crime Scene Photography)
"10/10. Great guys, easy to follow along with. They have fun but still stay on topic. Looking forward to purchasing my next course.The ability to not have a set few days to jam the course in was huge for me. Knowing that at any time I could stop and pick up the course later, to not interfere with time-pressing cases, was awesome." (Homicide & Death Investigations)
"Y'all made me laugh throughout the course which was great. I even was telling my co-workers how great it was a few times when you made me laugh. It breaks any course up to be able to laugh a little. I appreciate the information and the ideas you shared throughout the class."
"It (the course) surpasses my expectations. The instructors were very knowledgeable and the real-life scenarios, along with their life experience (previous cases) allowed me to somewhat put a strategy in my mind together of how I would proceed in the future. Instructors were creative, effective, Invested, knowledgeable and funny ... they seemed to enjoy sharing their knowledge and the funny content only made it better."
"Excellent information overall. Very informative and also a good refresh of information as over time we forget things. They obviously have been exposed to the material in their career. The course was very informative and i can't think of anything needed to better the content.' (Autoerotic Death Investigations)
"Great information. We recently had a case in our agency and I believe this course provided relevant information on how to go about the investigation. The instructors were Awesome and knowledgeable' (Child Death Scene Investigations)
"This course brought up issues with consensual encounters that I had not thought of before, specifically ways in which an otherwise consensual encounter can be elevated to a detention or even an arrest. I expected a course that would address different aspects of consensual encounters, and I was not disappointed.
"The course was Great. There were a couple points related to making consensual contacts at a residence that were new ideas to me." (Consensual Street Contacts)
"The Instructor seemed to genuinely enjoy the material and have a knowledge base with it – especially as it related to patrol/scene documentation. This is a good base level training to understand and hone pre-existing photography skills." (Crime Scene Photography for Patrol)
"Much better than I expected. I assumed based on the small fee it was going to be limited it information however it was great, very informative and both instructors have tons of experience and really fit well in the lesson plan. I will definitely purchase the 4 hour training. The course was absolutely very easy to understand and I felt it was good that it was instructed in chronological order. It really helped me to understand the different stages of a death and different clues to look for." (Death & Decomposition for the First Responder)
Go above and beyond with your law enforcement training.
challenge yourself. take it to the next level.