Unlike any other training you've had.
Have fun while achieving your training goals.
In 2019 Jayme, Jim and I were tired of the same monotonous police training and decided to break the mold with an innovative, engaging platform for learning both in person and online.
We are a team of passionate cops, dedicated to providing the best possible training for our fellow officers. We are driven by a shared passion for law enforcement and a commitment to helping others succeed.
As cops ourselves we understand the challenges that come with the job, so we make sure our trainings provide officers with the necessary tools and knowledge they need to be successful in their roles.
Our mission is to ensure that every officer is equipped with the skills and resources they need to best serve their communities while learning in an engaging and fun environment.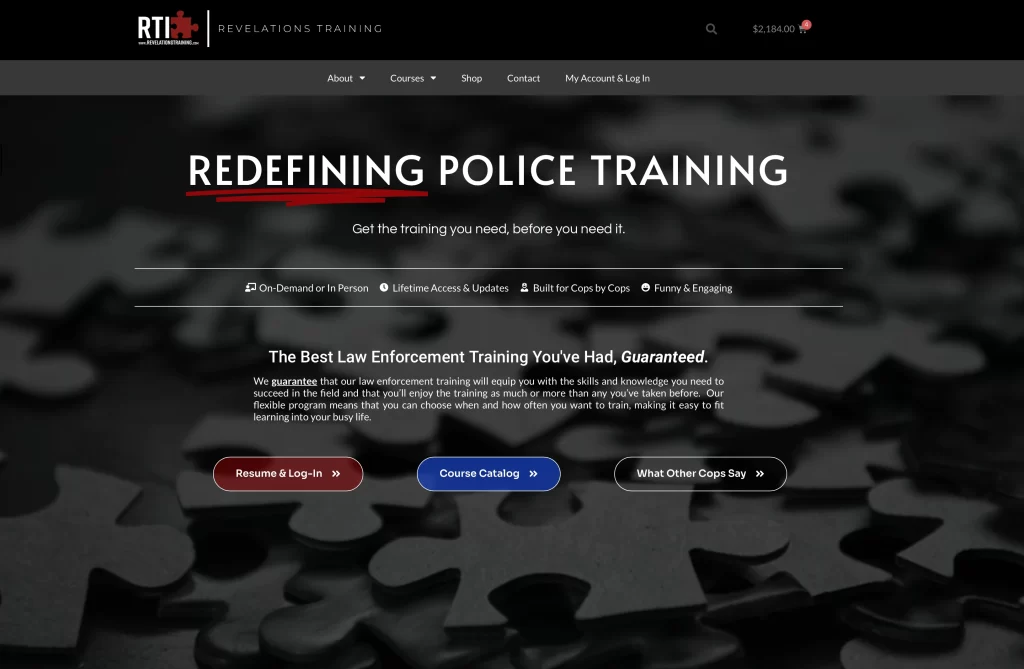 Jayme Dozier
Lead Trainer
Not only is he an excellent investigator and comedic genius, Jayme designs our outstanding training curriculum and is an Interview & Interrogation instructor, FAA certified sUAS operator and he's also 1 of 64 certified through the International Association of Identification for Bloodstain Pattern Analysis.
Jim O'Gorman
Lead Trainer
Jim is another comedic guru who brings a full life of law enforcement experience investigating everything from street crimes to child death in both major metropolitan and suburban areas.  Jim is a certified investigator and hostage negotiator as well as an Interview & Interrogation Instructor.
Aaron is our expert crime scene and police photographer, leadership authority, FAA certified drone operator and overall tech guy. He's an active special victims investigator, certified Drug Recognition Expert and has both EMS and Emergency Management experience as well.
Membership has its privileges.
POST Certified Instructors
The training is the same instruction you would get from in person trainings.
Antime / Anywhere You Want
Doable anywhere you with an internet connection on your own schedule.
In Person Training
Host a course at your agency for traditional in person learning.
Quality Instruction and Curriculum Measures
We've built our courses to conform to Idaho POST instructional standards which is notable because Idaho POST uses the IDALEST model. 
Each RTI course is backed with a professionally written curriculum, complete with overarching learning objectives that are supported by full lesson plans addressing each learning objective.
Course syllabi can be found on each course page in the online catalog and provided upon request.
A major part of our  commitment to providing you quality training means we have course version control, instructor feedback, learning benchmarks, including assignments, essays, quizzes, and final exams.
Our mission is to facilitate the learning of other law enforcement personnel – not to be a diploma mill. Our training requires your participation for you to attain the most out of it which is exactly what our communities, employers and co-workers deserve.
Law enforcement officers and deputies train with us.