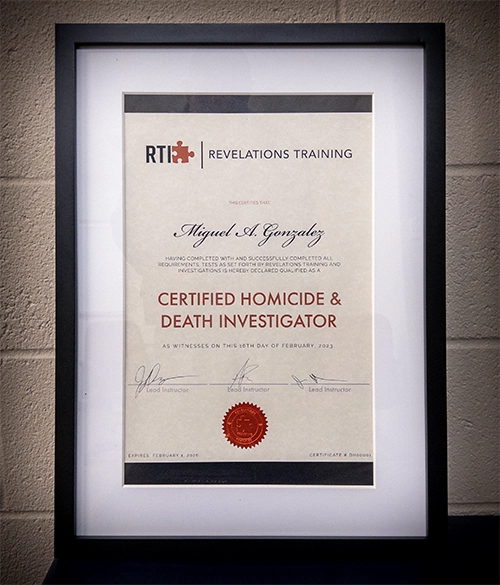 You're the best at what you do - now you can prove it
If you want to move up in your career as an investigator, getting an expert investigator certificate can give you the edge you need. With this credential, you'll be able to show that you're serious about your profession and that you have the skills to back it up.
After completing a rigorous course of study, those completing our program can receive certification at graduation. These certificates show that the individual has the advanced knowledge necessary in this field. 
At the completion of your course of study, you will be mailed a framable certificate worthy of displaying on your wall (shown left).
We offer four unique law enforcement certification courses of study so no matter which discipline you are interested in, we've got you covered.
Each certification comes with its own unique certification number and expiration date. Continuing education and renewed learning are important pillars to holding any of our certifications. 
You've Probably Got Questions
We get it, this is a lot of information to consider and The commitment you are looking at takes both time and money. 
We are happy to discuss options with you for your certification training and which option is right for you. Send us a message today!
Is it worth it?
Absolutely. Obtaining a Revelations Training investigative certification  shows everyone your work ethic and professionalism is unmatched.